SOUTHGATE
IMPORTANT NOTICE
36 ST.PETER'S ST
32 ST.PETER'S ST
14 - 16 ST.PETER'S ST
12 ST.PETER'S ST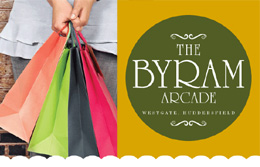 Byram Arcade
Westgate, Huddersfield

A haven for independent shopping, Byram Arcade is the town's oldest Victorian arcade and a great place to visit in Huddersfield.

Spread over three floors, the arcade is in the heart of the town centre and home to specialist shops selling homewares, fashion, vintage, arts, crafts, and gifts, plus several cafés and restaurants.

ST.PETER'S ST
ST.PETER'S ST
LORD ST
BYRAM ST
WOOD ST
6A ST. PETERS STREET
JOHN WILLIAM ST
HUDDERSFIELD
Y

our screen should look like

the picture above with navigation icons to the side, top and bottom.
If it does not, please click the image above to gain full website access. Thank you.
ESTEEM CLEANERS
CLEANING
TEL 01484 530453
THE VULCAN
PUBLIC HOUSE
TEL 01484 302040
DEON HUNTER
HAIRDRESSERS
TEL 01484 532433
HD1 1RA
WEI WEI
CHINESE RESTAURANT
TEL 01484 451991
HD1 1RA
SAHIB TRAVEL
TRAVEL AGENT
TEL 01484 545665
GT TAXIS
TAXIS
TEL 01484 534565
TO LORD ST

ST PETER'S GARDENS
CHURCH OF ENGLAND
TEL 01484 427964
ST PETER'S GARDENS
CHURCH OF ENGLAND
TO BYRAM ST

TO WOOD ST

KA-POW COMICS
COMIC BOOKSTORE
TEL: 01484 766363
HD1 1DH

TO JOHN WILLIAM ST

HUDDERSFIELD