TO SOUTHGATE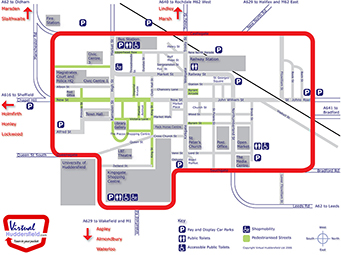 TO NORTHUMBERLAND ST

TO ST.PETER'S ST

HUDDERSFIELD
Click to go there!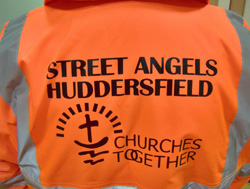 Huddersfield Street Angels are a group of volunteers who give up their free time on a Saturday night (10pm-2am) to help those who are enjoying the night life of our town to keep safe.
www.streetangelshuddersfield.co.uk

TO THE BEASTMARKET

HUDDERSFIELD
TO SOUTHGATE

TO KIRKGATE
TO VIADUCT ST

TO BROOK ST
HUDDERSFIELD
Y

our screen should look like

the picture above with navigation icons to the side, top and bottom.
If it does not, please click the image above to gain full website access. Thank you.
THE MEDIA CENTRE
ARTS & IT
TEL 01484 483000
Ground Floor of the Media Centre
Food Coffee
Wi Fi
TO NORTHUMBERLAND ST

HUDDERSFIELD
CAR PARKING
TO ST.PETER'S ST

GT TAXIS
PRIVATE HIRE
TEL 01484 534565
Insurances
BABA GANOSH
LEBANESE CUISINE
TEL 01484 301563
HD1 1QA
for Spares, Repairs & Valuations
9.30am - 5.30pm (Monday to Friday)
9.30am - 5.00pm (Saturday)
CLOSED (Wednesday and Sunday)
ADVICE FREE OF CHARGE
KIRKLEES GUNS
FIREARMS DEALER
TEL 01484 544600
MISSION CAFE
REFRESHMENTS
HD1 1QA
THE WELCOME CENTRE
CHARITY
TEL 01484 340034

http://thewelcomecentre.org
HD1 1QA
"Supporting people in crisis"
HUDDERSFIELD MISSION
METHODIST CHURCH
TEL 01484 421461
HD1 1QA
VACANT PREMISES
VACANT PREMISES