Vacant Shops & Offices in Huddersfield Town Centre & Surrounding Villages
including Almondbury, Holme Valley, Colne Valley, Honley & Holmfirth, Marsh, Marsden, Aspley, Waterloo and more...
Business Sales ~ Commercial Premises ~ Offices To Let in Huddersfield
Welcome to the Commercial Vacant Property page on www.virtualhuddersfield.com
You can find shops and other businesses in Huddersfield shown in their actual positions on our Virtual Streets.

Here is a unique service to help you find retail premises. When a shop, or other property featured on this website ceases to trade from a location we cover, we change the background colour to orange.


We do this so as to keep our users accurately informed of current shopping facilities and also to alert potential new businesses as to the opportunity available. This is highly valued as new traders can not only see how the premises used to look but also can view neighbouring outlets.
---
Find a Vacant Shop, Office,
Pub or Club for your Business

- Below are links to street sections which have Vacant Property.
Some Streets may have more than one vacant property.
Disclaimer - We are not estate agents. We have gathered the displayed information from photographs of the premises. Whilst we regularly update this website we cannot confirm the current status or availability of any property. Before travelling you should contact the agent or make independent enquires of your own.
Visit our 'Newly Opened' page to see the Newest Shops in Town - click here
Useful Links:
If you found this page through search engines you are not viewing it with full website navigation, to see more of what Huddersfield has to offer, including events, videos, webcams and more - www.virtualhuddersfield.com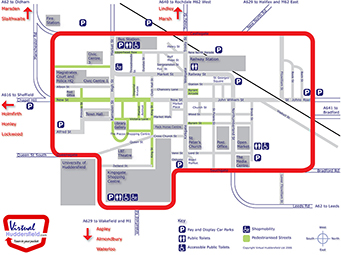 Contact estate agents listed on this website: Click Here

Visit our 'Newly Opened' page to see the Newest Shops in Town - Click Here