HOLLOWGATE
Click to Enlarge & Navigate
IMPORTANT NOTICE
VICTORIA STREET
13 VICTORIA STREET
BUS STOP
15 VICTORIA STREET
1

7 HUDDERSFIELD ROAD
19-21 VICTORIA STREET
23 VICTORIA STREET



Stafflex Recruitment in Huddersfield specialise in supplying temporary and permanent personnel for all types of jobs within local education, industry and offices.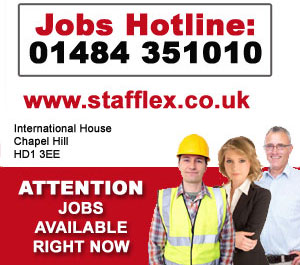 25A VICTORIA STREET
27 VICTORIA STREET
Click to Enlarge & Navigate
HUDDERSFIELD RD

TO TOWNGATE
HOLMFIRTH
YOU ARE ON VICTORIA ST HOLMFIRTH
FACING SOUTH
BY THE BRIDGE
Y

our screen should look like

the picture above with navigation icons to the side, top and bottom.
If it does not, please click the image above to gain full website access. Thank you.
FORGET ME NOT
CHARITY SHOP
TEL 01484
THOMAS COOK
TRAVEL AGENT
TEL 01484
( Your Business ? Please advise 01484 phone number. Click Here )
HD9 7DF
Click the bus to go there
OLD BRIDGE BAKERY
BREADS & SANDWICHES
TEL 01484 685807
HOLMFIRTH FOOD & WINE
CONVENIENCE STORE
TEL 01484 687917
OCCASIONS
CARDS & GIFTS
TEL 01484
CO OP TRAVELCARE
TRAVEL AGENT
TEL 01484 682235
LIONHART BOUTIQUE
INTERIORS
TEL 01484 817520
HD9 7DF
CHARLESWORTHS
NEWSAGENTS
TEL 01484 681111
YOU ARE ON VICTORIA ST HOLMFIRTH
FACING SOUTH
BY HUDDERSFIELD RD
TO HUDDERSFIELD ROAD

HOLMFIRTH