HIGH ST
IMPORTANT NOTICE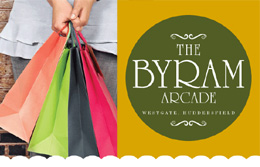 Byram Arcade
Westgate, Huddersfield

A haven for independent shopping, Byram Arcade is the town's oldest Victorian arcade and a great place to visit in Huddersfield.

Spread over three floors, the arcade is in the heart of the town centre and home to specialist shops selling homewares, fashion, vintage, arts, crafts, and gifts, plus several cafés and restaurants.

UPPERHEAD ROW
UPPERHEAD ROW
Baby Friendly
UPPERHEAD ROW
TO MARSH-OVER 70 SHOPS
BUS STATION LOBBY
"Shopping in the heart of Huddersfield has never been easier, at the convenient and friendly Piazza Shopping Centre..."

Set within a fully-pedestrianised area, The Piazza Shopping Centre offers a relaxed and welcoming environment that is a central part of the Huddersfield community.

MORE INFO
BUS STATION LOBBY
UPPERHEAD ROW
2 UPPERHEAD ROW
UPPERHEAD ROW
15 UPPERHEAD ROW
UPPERHEAD ROW
HENRY ST
TRINITY ST
HUDDERSFIELD
Y

our screen should look like

the picture above with navigation icons to the side, top and bottom.
If it does not, please click the image above to gain full website access. Thank you.
GMB KIRKLEES
UNION
TEL: 0345 337 7777
REVIVE
REUSABLE ITEMS TO BUY/DONATE
The Bus Station is Breast Feeding Friendly.
For more information
Click Here
BUS STATION & CAR PARK
FIRST HUDDERSFIELD 01484 426313
METRO 0113 245 7676
NATIONAL EXPRESS 0121 4238477
YORKSHIRE TRACTION 01484 531998
click to cross

THE PHONE SHOP
MOBILE PHONES
TEL 01484 430555
THE KIOSK
NEWSAGENTS
TEL 01484 541193
CHICKEN STATION
TAKE AWAY
TEL 01484 547771
VACANT SHOP
Click here for more
Vacant Properties
click to cross

CAFE EXPRESS
COFFEE SHOP
TEL 01484 424990
LADBROKES
BETTING OFFICE
BUS STATION & MULTI-STOREY CAR PARK
FIRST HUDDERSFIELD 01484 426313
METRO 0113 245 7676
NATIONAL EXPRESS 0121 4238477
YORKSHIRE TRACTION 01484 531998
Multi-Storey Parking
HUDDERSFIELD

NEW NORTH PARADE
HUDDERSFIELD