Departments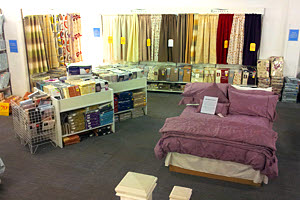 Rectella Home Furnishings
Quality curtains and bedding in a wide range of styles from contemporary to modern. These luxurious products have beautiful attention to detail, from embellished pieces to large bold prints, there is something to suit every style.
Woods Gifts
1000 square foot of the best gift range in the area, massive choice, great prices.The range includes ornaments, picture frames, cushions, jewellery and much more.
Buckley Jewellery at Peters of Huddersfield




Buckley Jewellery
On our ground floor we have a beautiful stand by Buckley Jewellery which features earrings, bracelets, necklaces and rings to suit every budget. Their accessories are delicate and made with the highest quality materials and make for the perfect gift.
Radley Handbags at Peters of Huddersfield
Radley Handbags
This department has the most sort after ranges in Huddersfield, including bags from Radley, Fiorelli, Gianni Conti, Kipling, plus a wide selection of our own sourced leathers and man made fabrics, all at great prices. Also located at the front of the ground floor, is a superb selection of Men's and Ladies Joules clothing and accessories.
Moda in Pelle Shoes
Find the beautiful new season ranges from Modainpelle, Padders & Van Dal, including shoes, sandals, boots, plus accompanying handbag and accessory ranges.




Bargain Basement at Peters of Huddersfield
The Bargain Basement has an incredibly loyal following, with most prices being 70% below manufacturers recommended prices. The variety of kitchen wear, electrical goods, toys, linens, clothes, animal accessories, furniture and accessories have to be seen to be believed.
Peters Coffee Mill, Huddersfield
The Coffee Mill adjoins onto our store and spills both into the Packhorse Centre and into the store itself. The coffee shop/lounge includes large comfortable sofas which give a homely feel, and hosts seating for up to 90 people. Our large menu of home cooked food at great prices means there is something for everyone.
Particularly popular items include:
Our home-baked sweets such as scones and biscuits.
Our all day breakfast menu which features items such as: Full English Breakfasts, Vegetarian Full English Breakfasts and Sausage/bacon/egg t-cakes.


Amazingly good value take-away offers: Hot drinks to go - £1, Breakfast meal deal - £2, Lunch meal deal - £3.
Please note that the coffee shop closes at 4.30pm in a week day, 5.00pm on a Saturday, and 3.30pm on a Sunday.Please note that the coffee shop closes at 4.30pm in a week day, 5.00pm on a Saturday, and 3.30pm on a Sunday.




Peters Outlet, Packhorse Centre Huddersfield
A new addition to Peters and incredibly popular is The Outlet which offers current season handbags, shoes, scarves, electrical, home furnishings & fashions.
All items are popular styles which are end of line and so can be offered at incredible discounted prices.
Situated 50 yards from the main Peters Store, Peters Outlet can be found at Unit 8 Packhorse Shopping Centre, Huddersfield.
Visit us: www.petersfashions.co.uk