JOHN W ST
IMPORTANT NOTICE
64 - 66 NORTHUMBERLAND ST
1 NORTHUMBERLAND ST
WOOD ST
Visit Holmfirth
Welcome to Kirklees Markets

Traditional Shopping in the heart of your town
Kirklees is undoubtedly a district of markets – from beautifully restored Victorian and Edwardian Market Halls, to the largest open markets in Yorkshire, fabulous farmers markets, and the best second-hand and collectors markets in the region.

Experience a change from the sterile shopping experiences of the high street and supermarkets with a visit to your local market, an ever-changing feast of colours, smells, sights and sounds.
NORTHUMBERLAND ST
BYRAM ST
5 A NORTHUMBERLAND ST
5 A NORTHUMBERLAND ST
LORD ST
THE MEDIA CENTRE
THE MEDIA CENTRE

3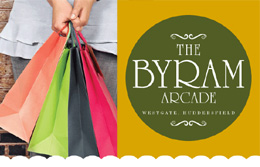 Byram Arcade
Westgate, Huddersfield

A haven for independent shopping, Byram Arcade is the town's oldest Victorian arcade and a great place to visit in Huddersfield.

Spread over three floors, the arcade is in the heart of the town centre and home to specialist shops selling homewares, fashion, vintage, arts, crafts, and gifts, plus several cafés and restaurants.

SOUTHGATE
TO ST.GEORGE'S SQ

TO JOHN WILLIAM ST
HUDDERSFIELD
Y

our screen should look like

the picture above with navigation icons to the side, top and bottom.
If it does not, please click the image above to gain full website access. Thank you.
MY UK VISAS

VISA APPLICATIONS
TEL 01484 506175
HAIR HAUS
HAIRDRESSER
TEL 01484 766686
TO WOOD ST
click to cross

Click to Enlarge & Navigate
Over 150 shops to see
CLEOPATRA'S LOUNGE
LAP DANCING CLUB
TEL 01484
TO BYRAM ST

CENTRE BOOKS & CRAFTS
TEL 01484 426344
NORTH POINT LIVING
STUDENT ACCOMMODATION
TEL 01484
HD1 1RL
TO LORD ST

MEDIA CENTRE
& CAFE OLLO
TEL 01484 483000
MEDIA CENTRE

3
OFFICE SPACE
TEL 01484 483000
click to cross

TO

ASPLEY

KIRKLEES