RAMSDEN ST
IMPORTANT NOTICE
Visit The Packhorse Centre Huddersfield
Located in the heart of Huddersfield, offering visitors a bright and welcoming shopping experience.
The centre provides over 40 shops on one accessible refurbished covered mall.

The Packhorse Centre is located within the town centre retail core in an excellent trading position, having frontage and an entrance situated on pedestrianised King Street, the prime retail thoroughfare, together with additional entrances from Market Place and Kirkgate.

Burger King ~ Patisserie Valerie ~ Ann Summers~ Beaverbrooks and many more
CORNER OF RAMSDEN STREET
NEW STREET
77 NEW STREET
NEW STREET
79 NEW STREET
81 NEW STREET
NEW STREET



Stafflex Recruitment in Huddersfield specialise in supplying temporary and permanent personnel for all types of jobs within local education, industry and offices.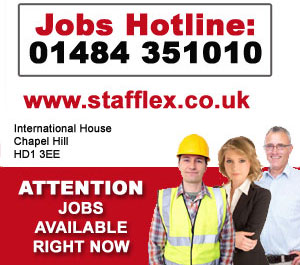 NEW STREET
Baby Friendly
93 NEW STREET
95 NEW STREET
97 NEW STREET
99 NEW STREET
101 NEW STREET
PRINCESS ST
103 NEW STREET
"Shopping in the heart of Huddersfield has never been easier, at the convenient and friendly Piazza Shopping Centre..."
103 NEW STREET
QUEENSGATE
CONTINUE ON NEW ST

TO HIGH ST
HUDDERSFIELD
Y

our screen should look like

the picture above with navigation icons to the side, top and bottom.
If it does not, please click the image above to gain full website access. Thank you.
BETFRED
BOOKMAKERS
MAX SPEILMANN
PHOTO-DEVELOPER
TEL 0870
SPLASH GSM
MOBILE PHONE REPAIRS
TEL 01484 0950605
BETFRED
BOOKMAKERS
TEL 01484
THE EYE CLINIC
OPTICIANS
TEL 01484 769100
H W SOLICITORS
LEGAL SERVICES
TEL 01484 518356
VACANT

PREMISES
POUNDLAND
GENERAL GOODS
TEL 01484 515022
click to cross

The Business on the right is Breast Feeding Friendly.
For more information
Click Here
OLDE ENGLAND FISHERIES
FISH & CHIPS
TEL 01484 424420
HOLLAND & BARRETT
HEALTH FOODS
TEL 01484 548963
ENTERTAINMENT EXCHANGE
GAMING, DVD & MORE
TEL 01484 ??
BRITISH HEART
FOUNDATION SHOP
TEL 01484 434830
4 COUSINS
GRILL & COFFEE LOUNGE
TEL 01484 535817
click to cross

THE COUNTY
PUBLIC HOUSE
TEL 01484 300494
WILKO
GENERAL STORE
TEL 01484 519388
VACANT

PREMISES

TO HIGH ST

HUDDERSFIELD