RING ROAD
IMPORTANT NOTICE
Visit The Packhorse Centre Huddersfield
Located in the heart of Huddersfield, offering visitors a bright and welcoming shopping experience.
The centre provides over 40 shops on one accessible refurbished covered mall.

The Packhorse Centre is located within the town centre retail core in an excellent trading position, having frontage and an entrance situated on pedestrianised King Street, the prime retail thoroughfare, together with additional entrances from Market Place and Kirkgate.

Burger King ~ Patisserie Valerie ~ Ann Summers~ Beaverbrooks and many more
OUTCOATE BANK
CASTLEGATE ACROSS RING ROAD
120 NEW STREET
NEW STREET
NEW STREET
106 NEW STREET
NEW STREET
"Shopping in the heart of Huddersfield has never been easier, at the convenient and friendly Piazza Shopping Centre..."
98-100

NEW STREET



Stafflex Recruitment in Huddersfield specialise in supplying temporary and permanent personnel for all types of jobs within local education, industry and offices.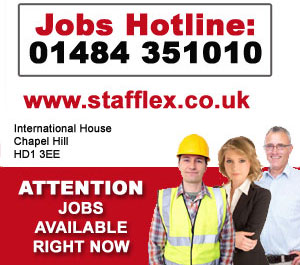 94 NEW ST
92 NEW ST
BUXTON WAY
11 ALBION STREET
90 NEW ST
88 NEW ST
86- 80 NEW ST
78 NEW STREET
76 NEW ST
72-74 NEW ST
68-70 NEW ST
66 NEW STREET
HIGH ST
TO CHAPEL HILL

TO QUEENSGATE
HUDDERSFIELD
Y

our screen should look like

the picture above with navigation icons to the side, top and bottom.
If it does not, please click the image above to gain full website access. Thank you.
HAD-IT

PHONE REPAIRS

TEL 01484 500441

HD1 2NS
LIDL
SUPERMARKET
TEL
SMALL SEEDS

MUSIC VENUE

TEL 01484 480252
HOME BARGAINS
JACK FULTON
FROZEN FOOD
TEL 01484 422226
B

ARNARDOS
CHARITY SHOP
TEL
POST OFFICE
POSTAL SERVICES
TEL 0845 7223344
PO

UNDWORLD
POUND SHOP
TEL
VACANT

PREMISES
Click here for more
Vacant Properties
VACANT

PREMISES
Click here for more
Vacant Properties
VACANT

PREMISES
Click here for more
Vacant Properties
click to cross

MOLLY MALONE'S
CAFE BAR
TEL 01484 542587
HD1 2NW
VACANT

PREMISES
Click here for more
Vacant Properties
VACANT

PREMISES
Click here for more
Vacant Properties
PRIMARK
CLOTHING STORE
TEL 01484 426814
VACANT

PREMISES
Click here for more
Vacant Properties
VACANT

PREMISES
Click here for more
Vacant Properties
CRAWSHAWS
BUTCHERS
TEL 01484
LADBROKES
BOOK MAKER
TEL 01484
click to cross

EBONI & IVORY
HAIR STYLISTS
TEL 01484 541217

TO RAMSDEN ST

HUDDERSFIELD