CLOTH HALL ST
IMPORTANT NOTICE
19-23

MARKET STREET
25-29 MARKET STREET
35 MARKET STREET
Street View - Market Street. - Click to enlarge & navigate

IMPERIAL ARCADE
IMPERIAL ARCADE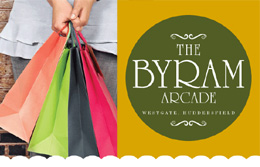 Byram Arcade
Westgate, Huddersfield

A haven for independent shopping, Byram Arcade is the town's oldest Victorian arcade and a great place to visit in Huddersfield.

Spread over three floors, the arcade is in the heart of the town centre and home to specialist shops selling homewares, fashion, vintage, arts, crafts, and gifts, plus several cafés and restaurants.

39 MARKET STREET
41 MARKET STREET
MARKET STREET
45 - 47 MARKET STREET
HIGH ST
TO CONTINUE ON MARKET ST
HUDDERSFIELD
Y

our screen should look like

the picture above with navigation icons to the side, top and bottom.
If it does not, please click the image above to gain full website access. Thank you.
BRITISH HEART FOUNDATION
FURNITURE & ELECTRICAL
TEL 01484
( Your Business ? Please advise 01484 local phone number. Click Here )
VACANT SHOP
Click here for more
Vacant Properties
RIDLEY AND HALL
SOLICITORS
TEL 01484 538421
HD1 2HL
click to cross

CO OP
BANK
TEL 01484 424596
REAL EMPLOYMENT
RECRUITMENT
TEL 01484
( Your Business ? Please advise 01484 local phone number. Click Here )
CAFFE VENECIA

ITALIAN COFFEE HOUSE
TEL 01484
( Your Business ? Please advise 01484 local phone number. Click Here )
HUDDERSFIELD
PHARMACY
TEL 01484 533417
TO MACAULAY ST & UPPERHEAD ROW

HUDDERSFIELD