HIGH ST
IMPORTANT NOTICE
30 MARKET STREET
"Shopping in the heart of Huddersfield has never been easier, at the convenient and friendly Piazza Shopping Centre..."
7TH FLOOR 30

MARKET STREET
THREADNEEDLE STREET
26 MARKET
STREET
DUNDAS ST
22-24 MARKET STREET
18 MARKET STREET
MARKET STREET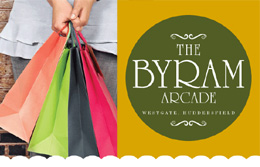 Byram Arcade
Westgate, Huddersfield

A haven for independent shopping, Byram Arcade is the town's oldest Victorian arcade and a great place to visit in Huddersfield.

Spread over three floors, the arcade is in the heart of the town centre and home to specialist shops selling homewares, fashion, vintage, arts, crafts, and gifts, plus several cafés and restaurants.

FOX ST

HUDDERSFIELD
Y

our screen should look like

the picture above with navigation icons to the side, top and bottom.
If it does not, please click the image above to gain full website access. Thank you.
PIP CONSULTATION CENTRE
ATOS HEALTHCARE
Tel 01484
REVELL WARD
ACCOUNTANTS
Tel 01484 538351
STUDENT ACCOMMODATION
VACANT PREMISES
CLICK VIEW TO ENLARGE
J SAINSBURY
SUPERMARKET
TEL 01484 514281
SPECSAVERS
OPTICIANS
TEL 01484 544566
FARMFOODS
FREEZER CENTRE
TEL 01484 538184
click to cross


TO CLOTH HALL ST

HUDDERSFIELD