IMPORTANT NOTICE
103 Lidget Street
105 - 109 Lidget Street
111 Lidget Street
113 Lidget Street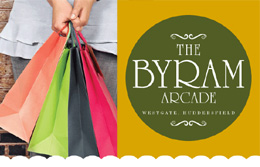 Byram Arcade
Westgate, Huddersfield

A haven for independent shopping, Byram Arcade is the town's oldest Victorian arcade and a great place to visit in Huddersfield.

Spread over three floors, the arcade is in the heart of the town centre and home to specialist shops selling homewares, fashion, vintage, arts, crafts, and gifts, plus several cafés and restaurants.

121 Lidget Street
125 Lidget Street
125 Lidget Street
32 West Street
Showers & Wetrooms at Atlas Bathrooms
50 West Street
West St
Y

our screen should look like

the picture above with navigation icons to the side, top and bottom.
If it does not, please click the image above to gain full website access. Thank you.
click to cross

AJ'S
Tel: 01484 943019
Hartley's
Tel: 01484 652754


FORGET ME NOT CHILDREN'S HOSPICE
Charity Shop
Tel: 01484 489789
'Charity shopping with a difference'


Jeremy Mills Publishing
Design & Print
Tel: 01484 463340
Concepts
Beauty Treatment
Tel: 01484 643351

Colours
Hair & Beauty
Tel: 01484 654175
HD3 3JR

"Professional Unisex Hair & Beauty Treatments"

Beauty by Alex Clark
Dermalogical Beauty Salon
TEL 07896662873
'Unisex Beauty and Holistic Salon'
Lindley Fisheries

Fish and Chips
Tel: 01484

The Black Bull
Public House
Tel: 01484 655938

CLICK TO CROSS