WESTGATE
IMPORTANT NOTICE
Baby Friendly
1

JOHN WILLIAM ST
JOHN WILLIAM ST
11-13 JOHN WILLIAM ST
JOHN WILLIAM ST
1905 Click the picture
17 JOHN WILLIAM ST
19-21 JOHN WILLIAM ST
BYRAM CT
BYRAM COURT
BYRAM COURT
27 JOHN WILLIAM ST
"Shopping in the heart of Huddersfield has never been easier, at the convenient and friendly Piazza Shopping Centre..."
29 JOHN WILLIAM ST
31 JOHN WILLIAM ST
33 JOHN WILLIAM ST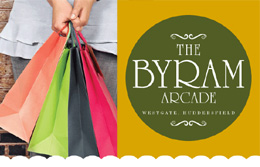 Byram Arcade
Westgate, Huddersfield

A haven for independent shopping, Byram Arcade is the town's oldest Victorian arcade and a great place to visit in Huddersfield.

Spread over three floors, the arcade is in the heart of the town centre and home to specialist shops selling homewares, fashion, vintage, arts, crafts, and gifts, plus several cafés and restaurants.

33 A JOHN WILLIAM ST
35 JOHN WILLIAM ST
37 JOHN WILLIAM ST
ST PETER'S ST
TO MARKET PLACE

TO KIRKGATE
HUDDERSFIELD
Y

our screen should look like

the picture above with navigation icons to the side, top and bottom.
If it does not, please click the image above to gain full website access. Thank you.
The Business on the right is Breast Feeding Friendly.
For more information
Click Here
NANDOS
CHICKEN RESTAURANT
TEL 01484 544094
ICESTONE GELATO
ICE CREAM PARLOUR
( Your Business ? Please advise 01484 phone number. Click Here )
KEBABISH ORIGINAL
FAST FOOD
( Your Business ? Please advise 01484 phone number. Click Here )
JOHN WILLIAM NEWS
NEWSAGENT
TEL 01484 ?
We present a "then and now" view of John William Street with pictures from the Kirklees Photographic Collection.

Click above.
SHAAM SPICE
FAST FOOD
TEL: 01484 541888
CORNER
CONVENIENCE STORE
TEL: 01484
TO CHURCH ST

HUDDERSFIELD

HUDDERSFIELD
THE CAMEL CLUB
NIGHT CLUB
TEL 01484 535303
INTERNATIONAL EXPRESS
CONVENIENC STORE
TEL 01484
LEGENDS
BARBER SHOP
TEL 07427390029
SUPERSAM
SUPERMARKET
TEL 01484 ?
( Your Business ? Please advise 01484 phone number. Click Here )
WINE SHOP
OFF LICENCE
TEL 01484
D & G OPTICIANS
OPTICIAN & OPTOMETRIST
TEL 01484 425627
VACANT UNIT
BOTAFOGO
BRAZILIAN RESTAURANT
TEL 01484 535440

TO ST.PETER'S ST

HUDDERSFIELD