The New Inn
| | |
| --- | --- |
| Restaurant Address: | The New Inn, Marsden |
| Visited On: | 14th July 2010, 7.00pm |
| Reviewed By: | Sarah of Meltham |
I have driven past the New Inn at Marsden many times and never really been enticed to visit it, as it always looked rather scruffy and tired, a 'drinkers' pub, not somewhere you would go to eat. Then quite recently it has undergone a big facelift with modern sage green signage and fresh cream exterior paintwork, much more appealing. It now projects the image of a modern stylish pub/eatery. So my husband and I decided to give it at try.

We arrived at the New Inn on a Thursday evening and parked the car on the road (there is no car park but plenty of parking on the main road). On entering the pub I was impressed with the interior. They had continued the modern theme inside with stained wood, calming greens and good lighting giving it a really welcoming feel. There is a tiled area closer to the bar with high stools and then wooden floors with high back leather chairs next to the fire. There are 2 separate rooms for dining, one with wicker chairs and wooden tables the other slightly more formal with high-backed wine cloth chairs, which is where we decided to sit. There was also some atmosphere created by the non-intrusive instrumental background music something some establishments lack. Considering it was early on a Thursday there were around 15 other people in the pub which added to the atmosphere as there is nothing worse than being in a place on your own sitting in silence.


Prior to sitting down we went to the bar where we received a really warm welcome from one of the young staff. She asked us what we would like to drink. There were the usual soft drinks, bottled ciders and lager plus several pumps with standard and special ciders, beers and real ales. We were also pointed to a full range of Chilean wines (in a wine list on the tables). We ordered cider which although nice was a little pricy at £3.50 per pint. She then asked if we were intending on eating and when we stated we were she talked us through the different menu options; a really good value early bird menu where 2 courses are £10 or 3 for £12 (orders must be between 4-7.30pm Mon to Thurs). The menu for the early bird changes weekly but today they had a homemade soup plus 2 other starters, for main Mullet, a Green Thai curry, a vegetarian haloumi dish plus some others and a choice of desserts

We opted for the 'Á la Carte' menu which has a decent range of choice. Starters ranged from Asparagus with poached egg and hollandaise sauce to grilled camembert bruschette with gooseberry jam. After much deliberation I chose the Salmon fishcakes with tomato salsa and my husband chose the Chicken Liver Parfait with toast and green chutney. All of the starters were between £3.95 and £5.50.

When the starters arrived we were impressed by the presentation on modern oblong plates. The fish cakes smelt gorgeous, as well as looking good and they tasted lovely. It was obvious that they had been shallow fried as they were not oily and the fish was fluffy and flaky and really well seasoned which together with the homemade salsa was a delicious starter I would definitely order again. My husband was equally impressed by the Chicken Liver Parfait; it was really light and creamy with great flavour and the green chutney was a great accompaniment, the only complaint was that there wasn't enough toast to go with such a generous portion of parfait.

For our main courses again there was a good selection and a couple of vegetarian dishes ranging from £6.50 up to £16.95 for fillet steak. I couldn't make my mind up between the parma ham wrapped corn-fed chicken breast, blue cheese stuffing, grilled polenta, red pepper coulis or the Moroccan slow roast lamb, sweet and savoury pistachio & almond rice, braised baby carrots. I finally went for the Moroccan lamb as it sounded so nice. I imagined succulent lamb being cooked in a tagine and the end result being a moist melt in the mouth lamb with great Moroccan spicing. Unfortunately when the dish arrived I was rather disappointed as the lamb was a couple of slices of a lamb terrine on top of a bed of rice. It was really quite dry despite the jug of gravy supplied (which was too watery) and the lamb itself whilst good quality lacked any distinct flavour, certainly not Moroccan spices*. The rice however was a triumph really great flavour sprinkled with pistachios' and sultanas.

My husband had chosen Fish and Chips and really enjoyed his choice as the fish was not greasy in the slightest, it was packed with fish rather than being all batter, which can sometimes happen. The chips were just right, which I can also attest to having stolen a couple, for sampling purposes of course!

During our meal one of the staff asked if everything was to our liking so at this point we stated that the lamb was rather disappointing as it wasn't what you would expect from the wording on the menu. He was very gracious and thanked us for the feedback which he said he would feed back to the chef.

At this stage we also ordered another round of drinks which was taken and served at our table which is unusual as in many pub eateries you have to go back to the bar yourself to order more drinks and to order food in many cases. All our orders were taken at the table which gave it more of a feeling of a true restaurant.

By now it was beginning to fill up both at the bar and in the eating areas plus people were arriving for overnight stays in the newly refurbished rooms, which according to a couple whose family had stayed there for a wedding are said to be very nice and to the same standard as their sister establishment Hey Green.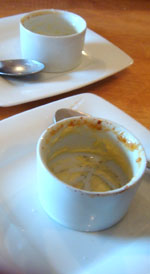 It was now time for dessert; we could have had rhubarb and ginger eton mess, sticky toffee pudding or warm chocolate brownie but we both immediately plumped for our all time favourite dessert, we have probably eaten hundreds of times before in various restaurants and countries in fact; crème brulée. Hence we were very interested to see how this crème brulée and home-made shortbread would measure up. We were not to be disappointed, it was fantastic with a really crispy top and lovely chilled creamy custard which went perfectly with the melt in the mouth shortbread biscuits. I think I would come back just for dessert alone.

So all in all an enjoyable evening in nice surroundings, good food, not too expensive and great service. we will definitely be back maybe to try the Sunday Menu with a larger family group.


* 'The recipe is from a Moroccan restaurant in Wandsworth run by chef patron Khalil Abdesslem. His entire menu is composed of familiar Moroccan dishes such as bastilla, kebabs, briouattes and tagines, and reflects his family's home cooking. This particular recipe is his signature dish. Moroccans don't cook everything in a tagine, and we thought the flavours of this were lovely and made a change from everything Moroccan coming in a tagine. The meat is in fact slow roasted for 41/2hours.

This particular dish is featured in the May 2010 issue of BBC Olive magazine.'

Siobhan Hunter
The New Inn
Visit their website: www.newinnmarsden.co.uk

To see this restaurant on Virtual Huddersfield click here > The New Inn
Return to restaurant review homepage here
Please note - Information and details in this review may have changed since date released.