Canton Chef Restaurant
| | |
| --- | --- |
| Restaurant Address: | 72 - 76 John William Street |
| Visited On: | 10th June 2015. |
| Reviewed By: | Tonie and Laurence from Huddersfield |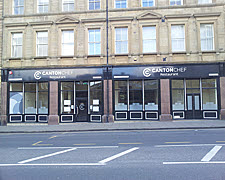 We decided to visit the new and awaited Chinese restaurant 'Canton Chef'on John William Street on Wednesday 10th June about 8.30 pm. We didn't have a booking but they managed to accommodate us even though the venue was quite busy, saying it was no problem and making us feel welcome.

On our arrival we were greeted by the general managers, Anne Ho and Roy Lau who introduced us to the dinning room, and as there was a large party present enquired if we would like to sit away from them as it could become very noisy- this suited us fine and we were shown to our table, which was set out beautifully (white table cloth, fresh flowers and sparkling clean utensils, and cloth serviettes). The background music was discreet and pleasant.

On observing the surroundings we found it very tastefully decorated with crystal Chandelier, and marble floor which was spotlessly clean. The waitresses were very polite, brought us china tea while we were looking at the menu trying to decide what we fancied from the extensive menu.
We decided on a set menu which included:
Sweet corn soup, crispy duck, sweet and sour pork, peppered fillet steak, black bean pork and pepper and ginger king prawn all served with rice. All the dishes were fabulous and everything was eaten. Yummy.

Throughout our meal the staff continually made sure we had enough tea to drink and the managers were keen to get our opinion of the new premises.
On discussion with Roy, we enquired how a disabled person in a wheelchair would gain access as there are 2 steps into the ground floor and a further 4 into the dining room and he informed us that they had been given planning permission for a chair lift to be fitted which was the only thing left to do.
There is a dining area on the ground floor which is accessible for disabled persons and also the disabled toilets and mother and baby room are on this level.
The toilet facilities are very smart, clean and ultra modern..
The service was spaced out to fit in with us and made it very comfortable and gave us the time we wanted to catch up with friends who had joined us on this occasion.

The overall cost of the meal was not cheap at £96.00 for a set meal for 4, but we all felt it was good value for money and we will definitely be back in the future.
Parking is usually available around that end of town.

Our recommendation is to go give it try and enjoy!

Visit Canton Chef: www.cantonchefhuddersfield.com

To see this restaurant on Virtual Huddersfield click here > Canton Chef

Return to restaurant review homepage here
Please note - Information and details in this review may have changed since date released.