IMPORTANT NOTICE

JPB Jewellery, 3A Half Moon Street
Huddersfield
Our personal jewellery services include:

• Bespoke diamond jewellery
• Specifically designed wedding rings
• Unique engagement rings
• Large selection of watches
• Earrings ~ Necklaces ~ Bracelets
SOUTHGATE
SOUTHGATE
ST. ANDREWS ROAD
ST. ANDREWS ROAD
ASPLEY BASIN
ST.ANDREW'S RD
"Shopping in the heart of Huddersfield has never been easier, at the convenient and friendly Piazza Shopping Centre..."
WAKEFIELD ROAD
WAKEFIELD ROAD
WAKEFIELD ROAD
49

WAKEFIELD ROAD
51

WAKEFIELD ROAD
There are 8 Huddersfield churches in our cluster of various traditions – Baptist, Church of England, Methodist, Pentecostal, Roman Catholic and United Reformed.

We meet together regularly as we recognise that we are united in Christ although we worship in different buildings in different ways.
For more information visit:
53

WAKEFIELD ROAD
55

WAKEFIELD ROAD
57

WAKEFIELD ROAD
61

WAKEFIELD ROAD
87-89 WAKEFIELD ROAD
SILVER STREET
91 WAKEFIELD ROAD



Stafflex Recruitment in Huddersfield specialise in supplying temporary and permanent personnel for all types of jobs within local education, industry and offices.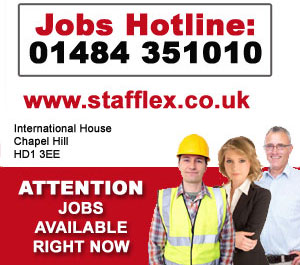 93 WAKEFIELD ROAD
95 WAKEFIELD ROAD
97 WAKEFIELD ROAD
107 - 109 WAKEFIELD ROAD
WAKEFIELD ROAD
WAKEFIELD ROAD
117 WAKEFIELD ROAD
Visit The Packhorse Centre Huddersfield
Located in the heart of Huddersfield, offering visitors a bright and welcoming shopping experience.
The centre provides over 40 shops on one accessible refurbished covered mall.

The Packhorse Centre is located within the town centre retail core in an excellent trading position, having frontage and an entrance situated on pedestrianised King Street, the prime retail thoroughfare, together with additional entrances from Market Place and Kirkgate.

Burger King ~ Patisserie Valerie ~ Ann Summers~ Beaverbrooks and many more
139 WAKEFIELD ROAD
143 WAKEFIELD ROAD
145-147 WAKEFIELD ROAD
169 WAKEFIELD ROAD
163 WAKEFIELD ROAD
169 WAKEFIELD ROAD

HUDDERSFIELD
YOU ARE ON WAKEFIELD RD
ASPLEY, 1KM SOUTH OF THE TOWN CENTRE
FACING EAST
Y

our screen should look like

the picture above with navigation icons to the side, top and bottom.
If it does not, please click the image above to gain full website access. Thank you.

SAINSBURY'S
SUPERMARKET
TEL 01484 01484 429277
JOHNSONS ( in SAINSBURY'S)
DRY CLEANERS

TEL 01484 432212
HD1 6QR
THE ASPLEY
PUB/RESTAURANT
TEL 01484 544250
PREMIER INN
HOTEL
ASPLEY WHARF MARINA
BOAT SALES & CHANDLERY
TEL 01484 514123
ASDA
SUPERMARKET
TEL 01484
GREGGS
BAKERY
TEL 01484
ICELAND
FROZEN FOOD
TEL 01484 423798
KFC
TAKEAWAY
TEL 01484 534614
WILLIAMSONS
NEWSAGENTS
TEL 01484 300200
QUALITY
FISH & CHIPS
TEL 01484 422790
HUDDERSFIELD TAXIS
PRIVATE HIRE
TEL 01484 300030
KEBABISH
INDIAN CUISINE
TEL 01484 515555
SUBWAY
SUBS & SANDWICH BAR
TEL 01484 428844
HD5 9A
EXPRESS ELECTRICS
ELECTRICAL GOODS
TEL 01484 303039
BOWER & CHILD
FIRES & COOKERS
TEL 01484 425416
"aga cooker specialists"
MINUTEMAN PRESS
PRINTING
TEL 01484 430550
"The first and last step in printing"
HD5 9AB
VANILLA
HAIR DESIGN
TEL 01484 426050
GRANITE
KITCHEN WORKTOPS
TEL 01484 516133
ASPLEY DENTAL
DENTAL CLINIC
TEL 01484 422312
B & S SECURITY
LOCKSMITHS
TEL 01484 512524
PEGASUS SIGNS
SIGNAGE
TEL 01484 518086
SIMPLY LIGHTING
LIGHTING
TEL 01484 455777
PURE BLISS
HAIR & BEAUTY
TEL 01484 430270
MACURA
DETOX CLINIC
TEL 01484 314111
WEST MOUNT VET
VETERINARY SURGEON
TEL 01484 426729
MOBALPA
KITCHEN SHOWROOM
TEL 01484 506468
HD5 9BE
POPPADOM
INDIAN RESTAURANT
TEL 01484 454550
HD5 9BE
PIZZA HUT EXPRESS
TAKEAWAY
TEL 01484 511010
HD5 9BE
YOU ARE ON WAKEFIELD RD
ASPLEY, 1KM SOUTH OF THE TOWN CENTRE
FACING EAST
TO ALMONDBURY

HUDDERSFIELD