LORD ST
IMPORTANT NOTICE
7 - 9 BEAST MARKET
9 BEAST MARKET
BEAST MARKET
Welcome to the
Huddersfield Central Lodge Hotel

Independently run by the Marsden family since opening in 1999, the Hotel has built up a reputation for friendliness and excellent accommodation at sensible prices.

Full Award Winning English Breakfast
Free Secure Onsite Parking
Free Wi-Fi and Town Centre Location

www.centrallodge.com
11/15 Beast Market
Huddersfield
West Yorkshire
HD1 1QF
Tel 01484 515551
11/15 BEAST MARKET
17 BEAST MARKET
19 BEAST MARKET
BEAST MARKET
23 BEAST MARKET
27 BEAST MARKET

Welcome to Chadwick Lawrence Solicitors, Huddersfield

Personal Departments

Civil Liberties
Conveyancing, Huddersfield
Debt, Dispute & Litigation
Employment
Family
Financial Services
Medical Negligence
Personal Injury, Huddersfield
Wills, Probate & Trusts


Commercial Departments

Commercial Property
Company Legal Health Check
Disputes, Litigation & Debt
Employment
Insolvency, Huddersfield
Intellectual Property
Licensing & Planning
Mediation
Miscellaneous Matters
29 - 37 BEAST MARKET
Visit The Packhorse Centre Huddersfield
Located in the heart of Huddersfield, offering visitors a bright and welcoming shopping experience.
The centre provides over 40 shops on one accessible refurbished covered mall.

The Packhorse Centre is located within the town centre retail core in an excellent trading position, having frontage and an entrance situated on pedestrianised King Street, the prime retail thoroughfare, together with additional entrances from Market Place and Kirkgate.

Burger King ~ Patisserie Valerie ~ Ann Summers and many more
13 SOUTHGATE
ST.PETER'S ST
19 SOUTHGATE
23 SOUTHGATE
25 SOUTHGATE


Stafflex Recruitment in Huddersfield
specialise in supplying temporary and permanent personnel for all types of
jobs within local education, industry and offices.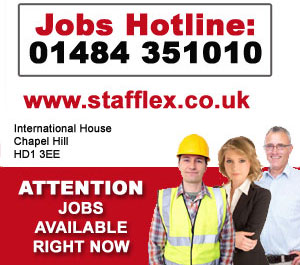 SOUTHGATE

TO KIRKGATE
HUDDERSFIELD
Y

our screen should look like

the picture above with navigation icons to the side, top and bottom.
If it does not, please click the image above to gain full website access. Thank you.
ALICE IN GROOMINGLAND
DOG GROOMING
TEL 01484 532125
HD1 1QF
KIRKLEES MUSIC SCHOOL
HUDDERSFIELD MUSIC CENTRE
www.kirkleesmusicschool.org.uk
TEL 01484 426426
KIRKLEES MUSIC SCHOOL
MUSICIANS
TEL 01484 426426
HUDDERSFIELD CENTRAL LODGE HOTEL
ACCOMMODATION
TEL 01484 515551

HD1 1QF
VACANT
SHOP
VACANT
SHOP
(Your Business ? Please advise local phone number. Click Here )
SMILER SERVICE
STUDENT SERVICES
TEL 07549 593535
AV CARS
TAXI COMPANY
TEL 01484 511611
DONG DONG
ORIENTAL SUPERMARKET
TEL 01484 547888
VACANT
SHOP

HUDDERSFIELD
BGC RACING
TURF ACCOUNTANT
TEL 01484 428788
01484 428788
pREP KITCHEN
HEALTH FOOD RESTAURANT
TEL 07527 593951
OUR WAY
HAIR & BEAUTY
TEL 07424 534497
HUDDERSFIELD LEISURE CENTRE
SWIMMING POOLS & FITNESS FACILITIES
TEL 01484 766269

HUDDERSFIELD